MEGA Seminar 2023: Quests for a Good Life
---
Date and time
Monday 21. August 2023 at 11:00 to Wednesday 23. August 2023 at 10:00
Registration Deadline
Thursday 17. August 2023 at 23:55
Location
Sandbjerg Gods, Sandbjergvej 102, 6400 Sønderborg Sandbjerg Gods
Sandbjergvej 102
6400 Sønderborg
MEGA Seminar 2023: Quests for a Good Life
---
About the seminar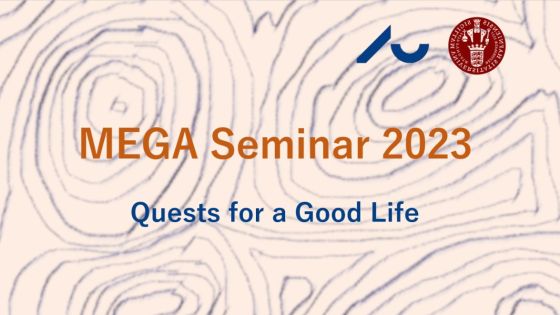 Signup for MEGA has ended, but signup for "spisebilletter" has opened - please note that "spisebilletter" only includes food and NOT a bed at Sandbjerg Gods. You will have to figure out sleeping arrangements on your own.
The MEGA 2023 committee are happy to invite you to this year's MEGA seminar taking place August 21. – 23. 

During the seminar days together, we will engage in inspiring discussions on cutting-edge research in the field of anthropology as well as socializing with colleagues in the scenic surroundings of Sandbjerg Gods, Sønderborg. 

The topic of the seminar: "Quests for a Good Life":
Through the 13 panels and the many presentations and conversations emerging from them, we wish to engage in discussions on what "the good" is, and the values and beliefs inherent in these conceptions and the many quests set out to realize the visions of "the good". 

Practical information: 
The total price for participation in MEGA is 3500 DKK. 

If you're employed at the three organizing departments from DPU, AU and KU at the time of the conference, your participation including transportation will be covered by the department. - please choose the option "internal sales" when going through the sign up flow. You should have received instructions on how to do this pr email.


If we experience interest beyond the capacity of the venue, we will first, prioritize participation from PhD students, secondly, scholars giving a presentation and thirdly, through first come, first serve.

A detailed program will be sent out in the end of June, but similar to the last years' MEGA we will meet August 21 at noon and say goodbye again the 23. after breakfast.

Given the topic of this year's MEGA (and the general state of the planet..), we strive for the seminar to cause as little ecological impact possible. Therefor all food served during the conference will be vegetarian and some vegan. Through the sign-up link below you can specify allergies and other dietary needs, which the crew at Sandbjerg Gods will take care of. 
Deadline for signing up is June 12 

In the end of June, we will send out the full detailed program and suggestions for what to bring (yes, there will be lots of informal activites such as table tennis, morning runs and swimming in the ocean)
For any other inquiries regarding the seminar please reach out to us via this MEGA email:MEGAseminar2023@samf.ku.dk
Organizer Contact Information
Københavns Universitet, Institut for Antropologi
Phone: +45 42780821
arv@samf.ku.dk
Organizer Contact Information
Københavns Universitet, Institut for Antropologi
Phone: +45 42780821
arv@samf.ku.dk